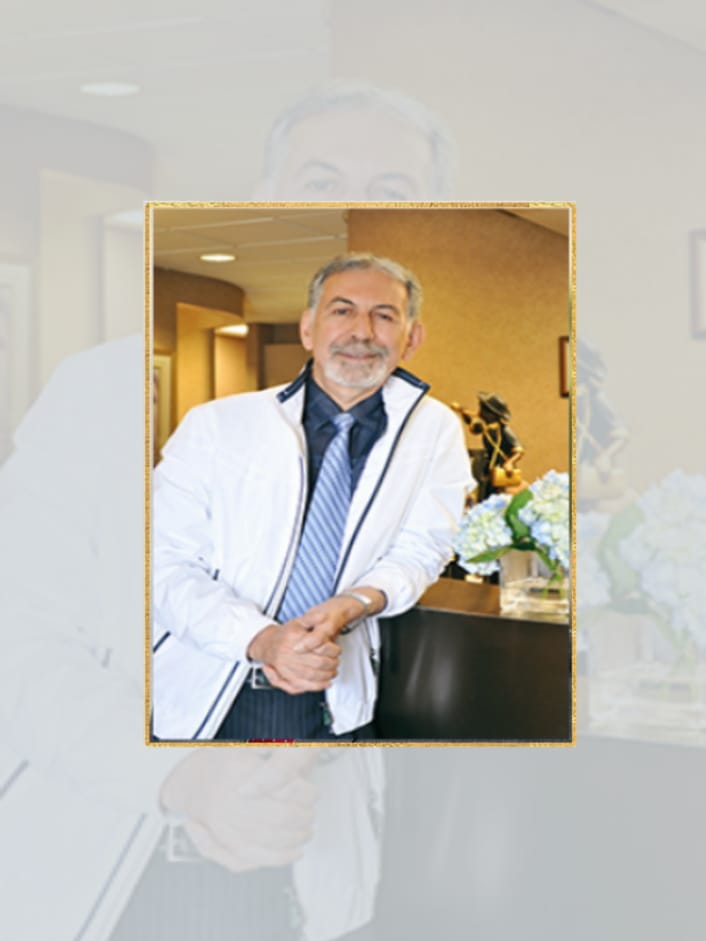 What Is Cosmetic Dentistry? Dr. Sage, DDS, FICCMO
Cosmetic Dentist Dr. Khalil Sage (Saghezchi) graduated with honors in 1988 from the University of the Pacific School of Dentistry in San Francisco . He is a member of the American Academy of Cosmetic Dentistry (AACD) and is one of the few general dentists in America recognized by the AACD as an accredited Cosmetic Dentist. Dr. Sage (Saghezchi) co-founded the Northern California chapter of the AACD and served for three consecutive years as its president.
As an esteemed fellow of the International Academy of Facial-Esthetic Dentistry, Cosmetic Dentist Dr. Sage (Saghezchi) has over eighteen years of experience in the art and practice of Cosmetic Dentistry, and has used Cosmetic Dentistry to create beautiful smiles for thousands of patients.
Cosmetic Dentistry gives patients the whitest, brightest smile possible. A combination of the latest in dental technology and techniques, as well as professional artistry, Cosmetic Dentistry is a blend of health, function, and beauty. At Dr. Sage's state-of-the- art offices, patients will find the resources to restore their self-confidence, improve their oral health, and present their best smile.
Whether a patient suffers from embarrassment over stained, crooked, cracked, or missing teeth, Cosmetic Dentistry can help. Every time we open our mouths to speak, we reveal our smiles. The many dental treatments available in Dr. Sage's Cosmetic Dentistry offices can make the dream of the perfect smile a reality for every patient.
Dr. Sage utilizes the latest in Cosmetic Dentistry techniques and technology, combined with the tried and true practices of general dentistry, to help patients achieve the best possible smile. From contributing to our positive self-image to offering advantages in our personal and professional lives, an enhanced smile is truly priceless Ò and attainable, thanks to specially trained Cosmetic Dentists like Dr. Khalil Sage.
Thanks to state-of-the-art computer imaging systems in Dr. Sage's offices, patients can see what their new look could be like before undergoing dental procedures. Dr. Sage will sit with the patient, and go over the treatment protocol with them, step by step. In this day and age of computer imaging, the patient can be more involved in the creation of their new smile than ever before.
Cosmetic Dentistry is a marriage of health, function, and beauty, so each piece of that puzzle is an essential component of a patient's best smile. Dr. Sage's analogy that a smile is like a beautiful picture couldn't be more accurate. Dr. Sage believes our lips are the picture frame, our gums are the matting for the picture, and our teeth are the picture itself. Each of these elements must be addressed in order for the overall effect of the picture to be pleasing.
A beautiful smile begins with our gum line. If a patient is concerned that their smile shows more gum than teeth, Dr. Sage (Saghezchi) can help restore the gum line and give them a more proportionate smile through Laser Gum Reshaping. He uses painless laser surgery to reshape and contour a patient's gums. He was one of the first dentists to use this procedure. Thanks to his experience, he is able to offer this treatment protocol as a means to improve a patient's smile quickly and painlessly.
Once Cosmetic Dentist Dr. Sage has consulted with the patient, and either determined that their smile has the proportionate amount of gum showing, or performed Laser Gum Reshaping, Cosmetic Dentistry provides state-of-the-art treatment options for perfecting the appearance, health, and strength of the teeth.
If a patient visits Dr. Sage's Cosmetic Dentistry offices with concerns about tooth discoloration and staining from smoking, tea, coffee, other foods and beverages, or the natural aging process, Teeth Whitening can help. Dr. Sage's offices offer the very latest and most effective bleaching products and techniques. After the patient visits Dr. Sage's Cosmetic Dentistry offices to determine the extent of the staining, and to establish that bleaching is the best option, the various possibilities for in-office or home Teeth Bleaching can be explored.
From Porcelain Restorations, including Veneers, Crowns, Inlays, and Onlays, to Full Mouth Reconstruction, Dr. Khalil Sage (Saghezchi) uses his continuing education and vast experience to create customized smile solutions for his patients.
Porcelain is metal-free and is wonderfully luminous. It has the same light reflecting properties as natural teeth. Thanks to Porcelain's ability to bond directly to the teeth, Porcelain Restorations are incredibly strong, and able to withstand the forces of teeth grinding, jaw clenching, chewing, and biting, as well as the passage of time. Porcelain is beautiful, luminescent, strong, enduring, and will not discolor over time.
Representing a true revolution in the field of Cosmetic Dentistry, Porcelain Veneers successfully treat many dental concerns. Porcelain Veneers are a fundamental part of creating a patient's dream smile. Hand-sculpted by professional laboratory craftspeople, Porcelain Veneers can be customized to create a smile that perfectly matches the patient's natural teeth. Cracked teeth, chipped teeth, rotated or gapped teeth, and teeth that are too short or too tall can all be transformed with Porcelain Veneers. With over thirteen years experience in the field of Cosmetic Dentistry, Dr. Sage (Saghezchi) has placed thousands of Porcelain Veneers on his patients. In back teeth, Porcelain can be used to address existing dental concerns or replace old inlays, onlays, and crowns.
If a patient is experiencing TJM problems, sunken cheeks, or muscle pain in the face due to lost teeth and dimension, Full Mouth Reconstruction may be in order. Full Mouth Reconstruction is a non-surgical plastic surgery approach to restoring a patient's facial appearance, oral health, and youthful look. Named one of the top ten dentists in the San Francisco Bay area for three years running, Dr. Sage (Saghezchi) is an industry leader who can give his patients a whole new look Ò and a whole new outlook on life. An adjunct professor at the Pacific School of Dentistry, and a contributor to publications such as the Clinical Valley Magazine, San Jose Magazine, and Gentri and SOMA (the San Francisco Modern Art Magazine), Cosmetic Dentist Dr. Sage instills great confidence in those patients needing Full Mouth Reconstruction.
Thanks to the effectiveness and sophistication of the techniques being performed in Dr. Sage's offices, as well as the dramatically superior materials and products available in Cosmetic Dentistry today, a patient's facial posture and appearance can be improved right along with their smile. Following Full Mouth Reconstruction, many patients are surprised and delighted to discover that wrinkles around the mouth and face have been alleviated by their dental procedures, and they now enjoy a more youthful appearance. Even patients suffering from chronic neck and head pain often discover relief of their symptoms following Full-Mouth Reconstruction, due to the fact that underlying teeth and jaw problems were contributing to their pain.
An international lecturer, Dr. Sage has appeared on television broadcasts such as ITN and APINC (the 24 hour Persian Channel). Dr. Sage (Saghezchi) is ready to help patients with all their General Dentistry and Cosmetic Dentistry needs.